Gallery visits are a regular part of my studio practice. Last Friday I headed out to Porirua to see the Shop Frontin' installations and Jade Townsend's show at Pataka. As always I found a lot more to see.
Shop Frontin' included among others Sian Torrington's latest installation – beautiful, like walking into one of her drawings. As well as Gabby O'Connor's installation in response to her recent time spent on the ice in Antarctica. I remember first seeing Gabby's work in the newly opened Hirschfeld Gallery with her installation What Lies Beneath. Making excellent use of the natural light shining throw the ceiling hung sculpture, casting a blue hue in the gallery creating a distinct feeling of being submerged beneath an ice burg. Unfortunately it was mid afternoon when I saw Gabby's current installation so I didn't get the full effect of light shining through the tissue from inside the shop, but was still well worth a visit.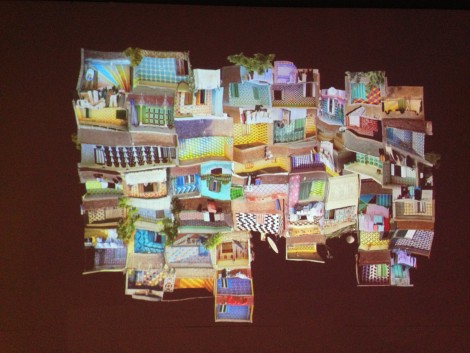 This is an image of a beautiful video work by Rana ElNemr called Telekinesis, 2007-2009. Part of the CROSS-BORDER exhibition on a Pataka at the moment. This is a group show of video works by female artists living and working in the southern mediterranean region. A difficult area for women at the best of times so great to see these women being supported by shows like this.